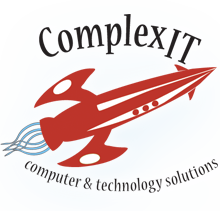 As the resident IT expert at my house, I often wonder how people who don't have the time or know-how to deal with residential IT issues cope. And those issues are only magnified if you run a small business.
The good folks at ComplexIT in Lexington can help you out. Steve & Katherine specialize in computer & IT help that is both local and personalized. They're smart, they're nice, and they can talk in plain English in addition to Geek.
Full disclosure: ComplexIT has referred a couple of their clients to us for website services. But that's not why we recommend them -- we recommend them because they're good people who do good work. Plus, they love dogs (scroll down at link to see Steve's picture for proof).